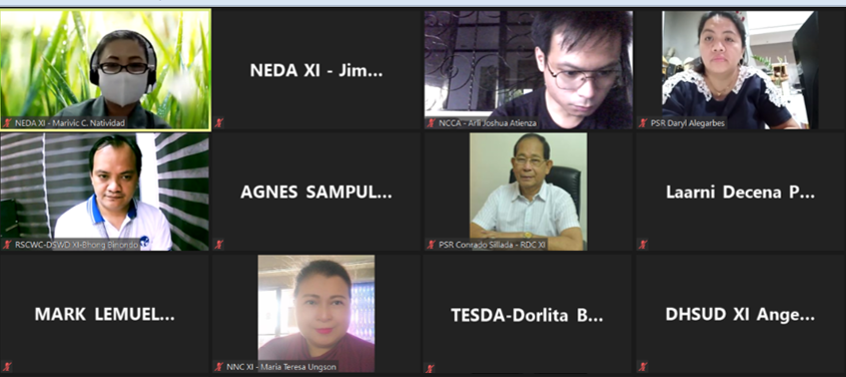 The Social Development Committee (SDC) XI conducted its 3rd quarter 2020 regular meeting through zoom online and discussed various social sector concerns, particularly on health, nutrition, social protection, education, and the proposed creation of the Regional Subcommittee on the Social Development Goals (SDGs).
The Committee highlighted the call for the support of Davao Region's stakeholders on the implementation of the Early Childhood Care and Development (ECCD) Program for the First 1000 Days or ECCD-F1K to help address stunting of children in the Davao Region. The ECCD is a comprehensive package of interventions to achieve complete child development. This includes those related to health, nutrition, and social services. The first 1000 days of life which span from conception up to the child's second birthday is called the "golden window of opportunity" for the child to achieve his or her full potential in the different aspects of development. Ensuring the delivery of key health, nutrition, and early learning interventions during this critical period could result in the child's optimum physical, mental, and social development.
The Committee also enjoined the national government agencies, local government units, non-government organizations, business, and private sectors, civil society organizations to support the Department of Health's campaign activities on Measles Rubella and BIDA Solusyon. The Measles Rubella, also known as German measles is a viral infection that causes a red rash on the body, accompanied by fever and swollen lymph nodes, wherein infection can spread from person to person through contact with droplets from an infected person's sneeze or cough. The DOH XI informed that the measles immunization activities in Davao Region are scheduled from October 26 to November 25, 2020.
The BIDA Solusyon sa COVID-19 Campaign intends to encourage change in behavior and mindset among the target population as the Region goes into post-quarantine and adopt a new normal. The BIDA Solusyon invokes every Filipino people to be part of the solution, not the problem, by wearing masks, practicing physical distancing, and proper handwashing. The BIDA Solusyon included in its campaign, the adoption of BIDA Bastonero/Bastonera, the champions of BIDA Solusyon Campaign, whose tasks are to increase adherence and prevention control measures to combat the coronavirus disease.
Also covered in the meeting were updates on COVID-19, availability of vaccines, challenges and prospects in the Davao Region, CHED XI's proposal on mainstreaming FIRe in the core functions of the higher education institutions, and the Philippine Action Plan on violence against children. (Janice May A. Cerezo, Senior EDS, NEDA XI)