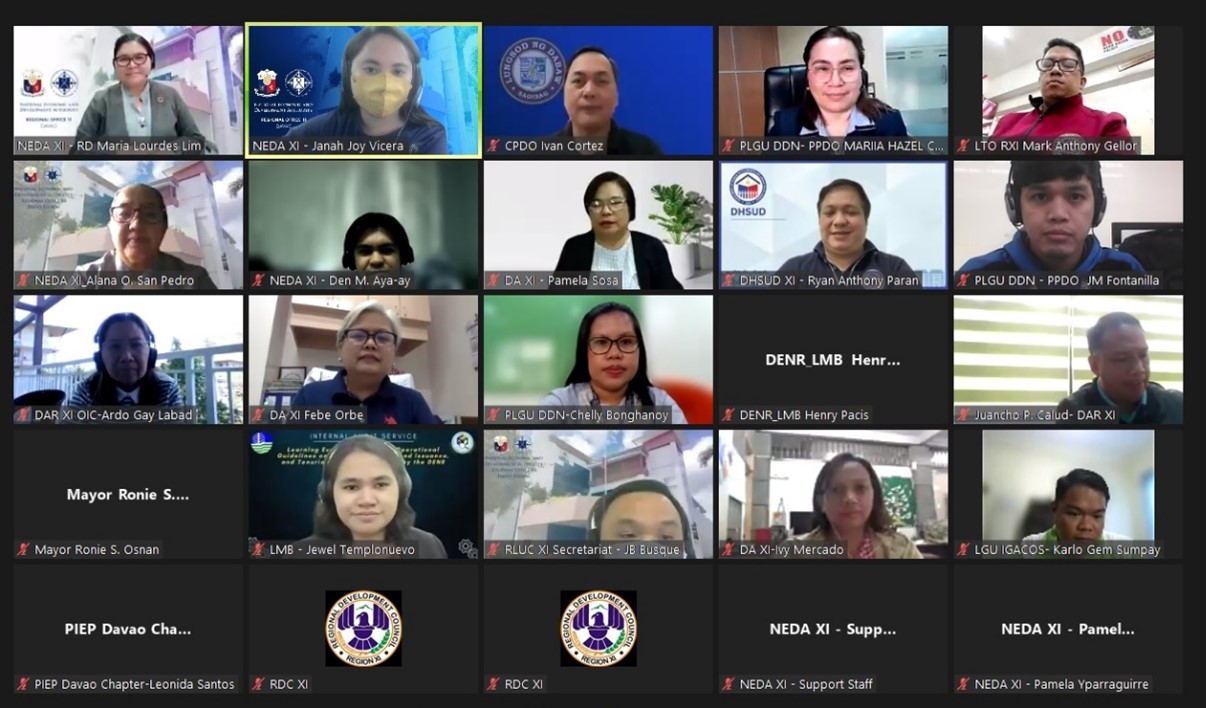 Davao City, March 14, 2023 – The Regional Land Use Committee (RLUC) XI conducted its 1st Quarter 2023 regular meeting on March 14, 2023, via Zoom and presided by NEDA XI Dir. Maria Lourdes D. Lim, CESO II as Chairperson.
The RLUC XI discussed the enhanced Davao City Comprehensive Land Use Plan (CLUP), 2019-2028, which was presented by EnP Ivan C. Cortez, City Planning and Development Coordinator, pursuant to Executive Order No. 73, s. 1993, wherein the RLUC is mandated to review the comprehensive land use plans of provinces, highly urbanized cities, and independent component cities.
The Davao City CLUP, 2019-2028 was endorsed by the RLUC XI on November 17, 2021, but since then enhancements were proposed to address issues on exceedance on the limits for reclassification of agricultural lands and the need to update the Strategic Agriculture and Fisheries Development Zones (SAFDZ) Maps for Davao City, among others. Thus, EnP Cortez presented an enhanced Davao City CLUP, 2019-2028 to address the various issues. The RLUC XI Committee concurred with the proposed enhancements and endorsed the Davao City CLUP, 2019-2028 to the Sangguniang Panlungsod of Davao, for its adoption.
The Committee also discussed and enhanced the CY 2022 Regional Development Report's Chapter 3: Overlay of Economic Growth, Demographic Trends, and Physical Characteristics. Annually, the RDC XI Secretariat prepares the Regional Development Report (RDR). The 2022 RDR is essentially an annual assessment of the performance of the Region in various development dimensions: social, economic, peace and governance and infrastructure, among others.
Further, the RLUC XI was provided an orientation on the Unified Map and Data Sharing Protocol Geographic Information System (GIS) Project developed under the GIZ-Responsible Land Governance in Mindanao (RLGM) Program, in partnership with the DENR-Land Management Bureau. Resource Persons from the DENR-Land Management Bureau Central was invited to provide the orientation.
The Unified Map and Data Sharing Protocol Project is a set of tools and protocols for the preparation of various tenure instruments. It aims to provide national government agencies – regional units and local government units – with procedures on how to effectively access and utilize several tenure instrument data for land administration and management purposes.
RLUC XI Chairperson Maria Lourdes D. Lim said that the orientation forms part of the RLUC XI's efforts to improve its knowledge on tools and processes on land use and land administration pursuant to its mandate on resolving land use policy conflicts among agencies in the Region.