Following their participation in the 2020 Virtual RDC Private Sector Representatives (PSRs) National Convention held on June 29-30, 2020 with the theme, "Together. Moving. Forward. Harnessing the RDC PSRs' Role in the New Normal", the RDC XI PSRs reaffirm their partnership with government in moving forward from the impact of the COVID-19 pandemic. During the RDC XI Third Quarter Full Council Meeting on September 16, 2020, the Head of the RDC XI delegation in this year's RDC PSRs National Convention, PSR Arturo Milan, updated the Council members on the agreements reached by PSRs all over the country during the 2020 RDC PSRs National Convention.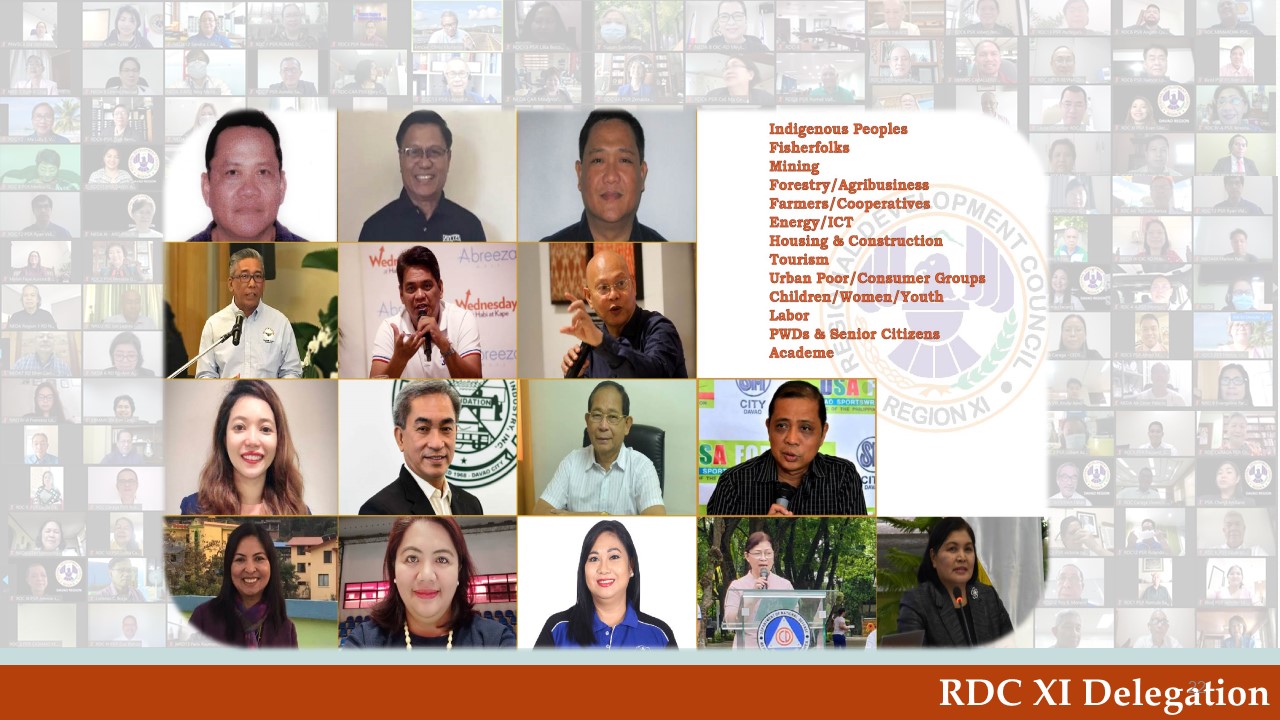 Among these agreements were for the PSRs to request representation in all RIATF-EID and RTF COVID-19, and their Monitoring Bodies, as well as, enjoin the national government to: consider sectoral concerns and rural situations in crafting policies and guidelines for the Transport Sector, capacitate LGUs in preparation for their increased Internal Revenue Allotment (IRA) in light of the Supreme Court Ruling on the Mandanas Case, expedite efforts in enhancing the ICT infrastructure in the Regions through efficient coordination by the Department of Information and Communications Technology (DICT) and the National Telecommunications Commission (NTC) with the private telecommunications companies, fast-track DICT's implementation and subsequent completion of the National Business One-Stop Shop (NBOSS) and Central Business Portal (CBP), and revisit the ban on the issuance of new mining permits and request for the development of the Mining Industry, through the Inter-Agency Mining Industry Coordinating Council (MICC), so that the said industry can contribute to the Recovery Program of the Government, subject to strict implementation of environmental laws. The PSRs are further enjoining the national government to provide additional FDA-approved testing kits to all Regions and promote the use of locally developed FDA-approved testing kits, the NTC to block porn sites, take down pornographic materials, and strengthen online monitoring and reporting mechanisms to detect the online abuse of children, and the Department of Labor and Employment (DOLE) to report the different forms of assistance provided to laborers during the quarantine period and to extend a stimulus package to micro, small, and medium enterprises (MSMEs), in order to help subsidize wages and allow them to continue operations.
The RDC XI PSRs committed to follow through on related actions and policy recommendations that may be taken up in the RDC XI Sectoral Committees on these specific concerns, for onward endorsement/adoption by the RDC. PSR Milan expressed that the RDC XI PSRs look forward to more engagements with their counterparts in the other RDCs in order to build stronger partnerships between the government and the private sector as the country moves forward to a Better Normal.
####
Faith Cabiles, NEDA XI
Photo by NEDA XI