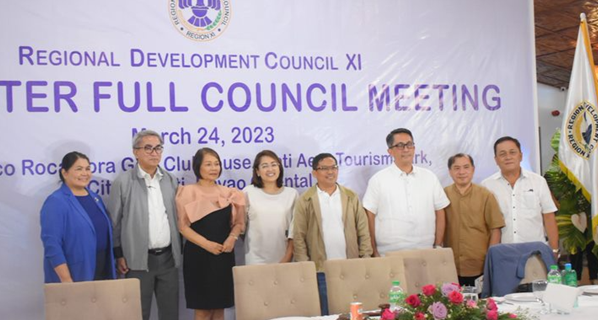 Mati City, Davao Oriental, March 24, 2023 – The Regional Development Council (RDC) XI convened for its 1st Quarter Meeting for CY 2023 which was presided by Davao Oriental Governor Hon. Corazon T. Nuñez-Malanyaon as Chairperson. Several business agenda were discussed and among those is the approval of the CY 2022 Davao Region Development Report (RDR).
The RDR serves as an annual assessment of the Region's achievements in terms of development in the sectors: social, economic, peace and governance and infrastructure, among others. It lays down the Region's performance in achieving the targets for the identified indicators per chapter of the Davao Region Development Plan (DRDP) 2017-2022 Midterm Update. Such is done by presenting year-in-review's accomplishments against Plan targets. Also, challenges in the implementation of the plan were identified and specific recommendations were also given in order to address the concerns present.
As the impacts of the pandemic were still experienced in 2022, the global headwinds affecting local supply and prices of basic commodities, the Region's economy was able to recover and picked up its growth momentum.
Along with implementation of the Plan, several notable events took place in the Region such as the reorganization of the RDC after the national and local elections, passage of the RA 11708 or the Metro Davao Development Authority Act, declaration of the Region as a Tourism and Investment-Ready Destination in relation to it being insurgency-free, citation of Davao Region as the second highest in the country's employment rates for the third quarter, and issuance of Wage Order No. RB-XI-21 granting an increase in daily wages.
Aside from that, a total of 485 projects with a contract value of PHP10.9 Billion were completed during the first three quarters of 2022 while the last quarter recorded a number of 464 ongoing projects with a value of PHP18.5 Billion.
In summary, the DRDP- Results Matrices for CY 2022 indicators with updated values reached 74% of the total 536 wherein 66.83% were on track or have exceeded the targets. Chapters on Reducing Vulnerability of Individuals and Families, Attaining Just and Lasting Peace and Ensuring Safe, Orderly and Regular Migration had high performances with above 90% of the outcome indicators on track. – JANAH JOY J. VICERA, NEDA XI