The Regional Development Council (RDC) XI conducted a video teleconference on May 12, 2020 to discuss urgent matters in view of the COVID19 pandemic. The special meeting was presided over by RDC XI Chairperson Gov. Jayvee Tyron Uy. NEDA Undersecretary for Policy and Planning, USec. Rosemarie Edillon, NEDA Assistant Secretary for Regional Development, ASec. Mercedita Sombilla, and Mr. Kennedy Espina from the DOST FASSSTER program graced the meeting as resource persons.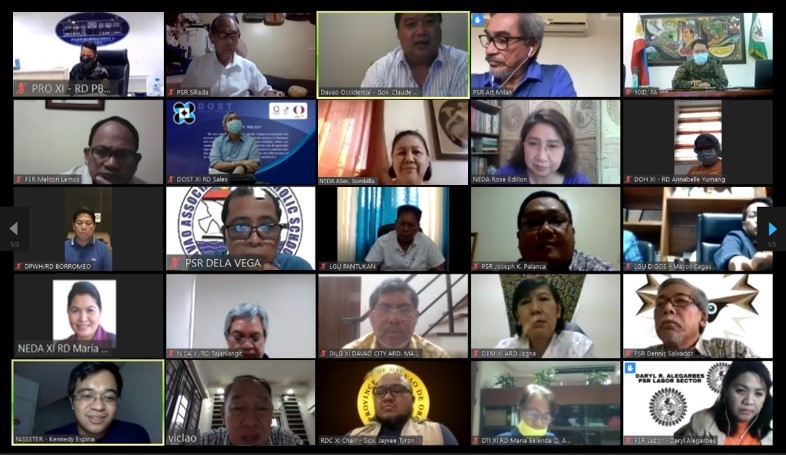 Among the highlights of the meeting were the presentation of the draft Davao Region Recovery Program (RRP) to mitigate the losses from COVID19 and transition to a "new normal". The RRP needs PhP 51.6 Billion worth of Programs, Activities, Projects (PAPs) for CY 2020 to 2022 to be implemented. Priority PAPs under the Social Sector (Health, Education, Social Protection) comprise the lion's share at 60%, 81%, and 80% of the total PAPs for CYs 2020, 2021, and 2022, respectively.
USec. Edillon presented the IATF-TWG's (Inter-Agency Task Force Technical Working Group) report on Anticipatory and Forward Planning, wherein the Undersecretary underscored the three-phased framework of the plan: the provision of right information, mitigating of losses, and, the transition to a "new normal". ASec. Sombilla then shared the draft framework of the Balik Probinsya, Bagong Pag-asa Program (BP2P) which aims to provide a better future post Covid-19, by decongesting Metro Manila and other major metropolis and relocating informal settler families; promote inclusive growth by boosting countryside development; and  ensure equitable distribution of wealth and resources, population and opportunities.  Executive Order 114 created the BP2 Council with the Executive Secretary as the Chair and the NEDA Secretary as the Vice Chair. Moving forward, NEDA, with the National Housing Authority (NHA), shall formulate the implementation guidelines and the program framework for the BP2's realization.
DOST also briefed the Council on FASSSTER (Feasibility Analysis of Syndromic Surveillance using Spatio-Temporal Epidemiological ModeleR for Early Detection of Diseases). FASSSTER serves as a comprehensive tool that features visualization of summary statistics, predictive modeling and forecasting and spatial analyses that can be used for COVID19 action planning especially at the LGU level. The Council also approved the distribution of the regional share based on DOE Circular No. 2020-04-008, allowing the immediate utilization and implementation of the ER 1-94 Funds towards COVID19 countermeasures and management. Aboitiz Power Corp-Generating Companies informed that LGU power host-beneficiaries may already utilize the ER 1-94 Funds starting April 7, 2020. ER 1-94 is a policy under the Dept. of Energy Act of 1992 where power generation-host communities are allocated with shares from one centavo for every kilowatt-hour generated by power plants.