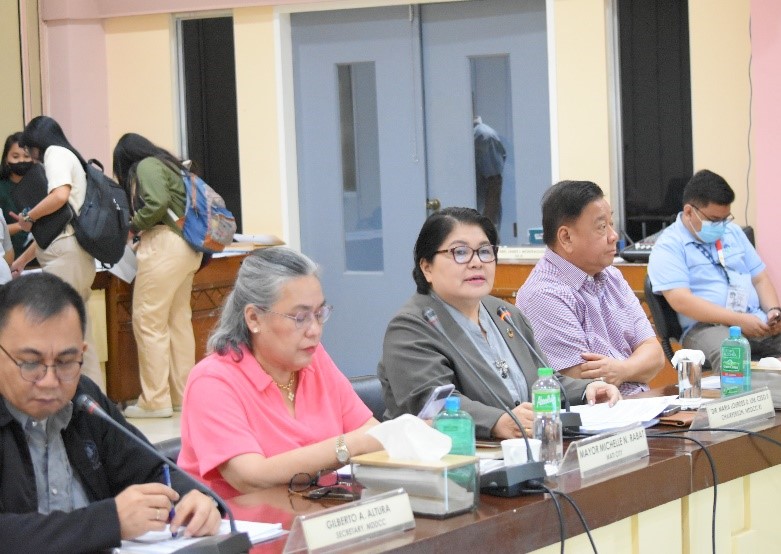 June 20, 2023 –  The Technical Working Group (TWG) for the formulation of the Metropolitan Davao Public Safety and Security Master Plan (MDPSSMP) headed by PLtCol Angel Sumagaysay, (Ret.), of the Davao City-Public Safety and Secuirty Office, presented the initial draft of the Master Plan before the Metropolitan Davao Development Coordinating Committee (MDDCC) during its 2nd quarter meeting on June 20, 2023 held at NEDA-RDC XI Conference Hall, Km. 7, Bangkal, Davao City.
In line with the formulation of the Master Plan, the TWG organized a planning workshop on June 16, 2023 to firm up the content of each sections covering the three clusters, viz: Preparedness and Response, Law and Order/Crime Prevention and Control, and Security. During the workshop, the participants were able to firm up the overall framework, cluster framework and strategies, as well as the action plan and bridging mechanism. Results of the workshop form part of the initial draft of the Master Plan that was presented in the said MDDCC meeting. The Master Plan is expected to be completed in the third quarter of this year.
The MDPSSMP is one of the development initiatives of the MDDCC for the Metropolitan Davao. With a plan period 2023-2040, the Master Plan shall provide a conceptual layout to establish an integrated safety and security blueprint for the entire metropolis and shall cover the following areas of cooperation, viz:
Border security within and without the metropolis and between each LGU;
Speedy detection of organized crimes;
Reduction of supply and demand for illegal drugs;
Prevention of commission of crimes;
Integrated standard operating procedure in the pursuit of perpetrators who flee from one LGU area of responsibility to the next;
Upgrading public safety, including:
Creation of public safety and security coordination centers in component cities and municipalities
Installation of CCTVs in streets and public places
Integrated disaster response system
The Master Plan shall cover the cities of Davao, Tagum, Panabo, Island Garden City of Samal, Digos, and Mati; and the municipalities of Carmen, Davao del Norte; Sta. Cruz, Hagonoy, Padada, Malalag, and Sulop, all in the province of Davao del Sur; Malita and Santa Maria, both in the province of Davao Occidental; and Maco in the province of Davao de Oro, comprising the Metropolitan Davao.
-Sr. EDS Ruth C. Lasquite, NEDA XI