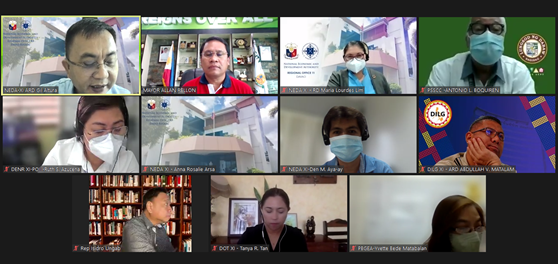 With the recent passage of the RA 11708, also known as the Metropolitan Davao Development Authority (MDDA) Act, the Metropolitan Davao Coordinating Committee (MDDCC) of the Regional Development Council (RDC) XI reviewed the draft of the Implementing Rules and Regulations (IRR) of this newly created body, during the MDDCC's 2nd Quarter Meeting on June 07, 2022. The Committee discussed in detail the provisions of the MDDA Act, to ensure that the draft IRR is consistent with the intentions of the authors and faithful to the spirit of the Law.
The proposed staffing pattern and the initial operational budget of the MDDA were also deliberated by the Committee. The proposed staffing pattern and budget for FY 2022-2023, though a structure and basic financial requirements of a newly created governmental organization prescribed by the Department of Budget and Management are referenced to initiate and enable the MDDA to perform its mandates.
The draft IRR, staffing pattern, and initial budget were all endorsed by the MDDCC to the RDC XI and the Metropolitan Davao Development Council, the Governing Body of the MDDA, as well as to the DBM Central Office.
Anna Rosalie G. Arsa, NEDA XI