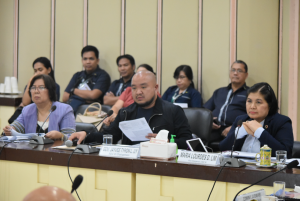 (Davao City, 18-20 February 2020). The Expanded Executive Committee of the Regional Development Council XI with the RDC XI Private Sector Representatives (PSRs) endorsed more than Php 281 billion representing the combined budget proposals of 48 Agency Regional Offices (AROs), State Universities and Colleges (SUCs) and selected Government-owned and Controlled Corporations (GOCCs) in Davao Region for FY 2021. The endorsement resulted from the three-day RDC XI Budget Review and Consultation, in line with the mandate of the RDC under Executive Order No. 325 to review the budget proposals of said government entities. Also present during the said activity were representative from the Local Government Units (LGUs) in response to continuing budget reforms that seek to ensure that the national budget priorities are responsive to regional and local needs in a manner that LGU development capacities are strengthened in the process.
Of the Php 281 billion endorsed budget proposals, around Php 168 billion or 60% shall be allocated for regular programs, activities and projects (PAPs) of agencies under Tier 1 while around Php 113 billion or 40% shall be allotted for new and expanded PAPs under Tier 2.
The top five agencies with the highest FY 2021 budget proposals are the Department of Public Works and Highways (DPWH) XI with Php 155 billion, Department of Education (DepEd) XI with Php 70.2 billion, National Housing Authority (NHA) XI with Php 15.8 billion, Philippines National Police (PNP) XI with Php 11.1 billion and Department of Social Welfare and Development (DSWD) XI with Php 9.1 billion. The budget proposals of these five agencies comprise nearly 93% of the total budget proposals for Davao Region. The DPWH XI budget proposal, which comprise approximately 55% of the total proposed budgets for the Region, shall be allocated for the construction of national and local roads, national bridges, flyovers, interchanges and underpasses. Under the Convergence and Special Support Program, the DPWH XI budget proposal shall also cover infrastructure support for access roads leading to declared tourism destinations, trade, industries and economic zones and seaports and well as various infrastructure in support of national security.
The new and expanded projects under Tier 2 were ranked following the prioritization criteria set by the RDC XI, which includes prioritization by the agencies, sector relevance, implementation readiness of the PAP and absorptive capacity of agencies. Seven (7) major capital projects (MCPs) costing more than Php 2.5 billion were endorsed for funding, namely:
Samal Island-Davao Connector Project (DPWH XI)
Convergence and Special Support Program (DPWH XI)
Ensure Safe and Reliable National Road System Program (DPWH XI)
Various Infrastructure Including Local Projects and National Buildings (DPWH XI)
Construction of Classrooms, Laboratories and Workshops (DepEd XI)
Waste to Energy Project (DENR XI)
Housing for Government Employees at the Davao Regional Government Center (NHA XI)
Housing for Informal Settlers Affected by the Regional Government Center (NHA XI)
Other PAPs below Php 2.5 billion that were included in the RDC XI's top priority list of PAPs in Tier 2 were the following:
Construction of the Regional Standards and Testing Laboratories (DOST XI)
Construction of Provincial S&T Center in Davao Oriental (DOST XI)
Provision of Support Services to the RDC XI (NEDA XI/RDC XI)
Provision of Aerial Ladder Trucks (BFP XI)
Renovation and Maintenance in Residential Care Facilities (DSWD XI)
Construction of Regional Headquarters Building (PNP XI)
Construction of TESDA XI Regional Office and Provincial Training Center Davao at the Regional Government Center (TESDA XI)
Rehabilitation of College Gymnasium (DOSCST)
In addition to the previous year's RDC XI requirements of including in the budget proposals PAPs for Gender and Development, Disaster Risk Reduction and Climate Change Adaption (DRR-CCA) Related PAPs, PAPs for Senior Citizens, Persons with Disabilities and Youth Development, the concerned agencies were required to include in their FY 2021 budget proposals PAPs for Indigenous People's Communities, amounting to 1% of their total budget, and PAPs in support to the implementation of Executive Order No. 70 or Institutionalizing the Whole-of-Nation Approach in Attaining Inclusive and Sustainable Peace.