(Davao City, 16 September 2022). The Economic Development Committee (EDC) of the Regional Development Council (RDC) XI conducted its CY 2022 3rd quarter regular meeting, which also served as its reorganizational meeting, on September 16, 2022 following the RDC XI's reconstitution and designation of Sectoral Committee Chairs and Co-Chairs for the term 2022-2025.
Department of Trade and Industry (DTI) XI Regional Belenda Q. Ambi and Private Sector Representative (PSR) Joseph K. Palanca were designated by the Council as the EDC Chair and Co-Chair, respectively.
The newly-reorganized EDC XI is composed of 43 members representing 15 national government agencies (NGAs), 3 government-owned and controlled corporations (GOCCs)/government financial institutions (GFIs), 3 academe/research consortia, 11 provincial/city development planning offices, and 7 RDC XI PSRs.
EDC XI Chairperson Ambi, in her opening message, emphasized the need for the Committee to continually assist in the economic recovery of Davao Region while ensuring sustainable development through sound policy recommendations.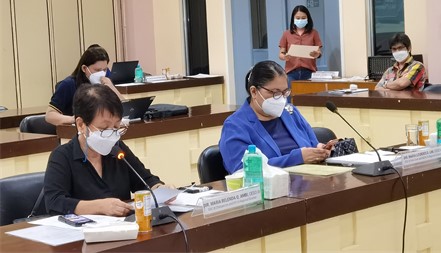 Chairperson Ambi also highlighted the Committee's significant role in the preparation of the Davao Regional Development Plan (RDP), 2023 to 2028, noting PBBM's 8-point socioeconomic agenda which seeks to reinvigorate job creation and poverty reduction by steering the economy back to its high-growth path, and more importantly, through economic transformation for a prosperous, inclusive and resilient society.
During the same meeting, the Committee resolved to nominate the Environmental Management Bureau XI (EMB XI), KAPWA Upliftment Foundation, and Davao City Chamber of Commerce and Industry, Inc. (DCCCII) as SNVMs to the RDC XI Full Council.
Executive Order No. 325 provides for the participation of SNVMs to aid the Council in the efficient discharge of its functions. SNVMs are deemed experts in their respective fields and can add value during Council deliberations. The term of SNVMs coincides with the term of elected officials and PSRs of the RDC. -Rowena M. Dango, NEDA XI