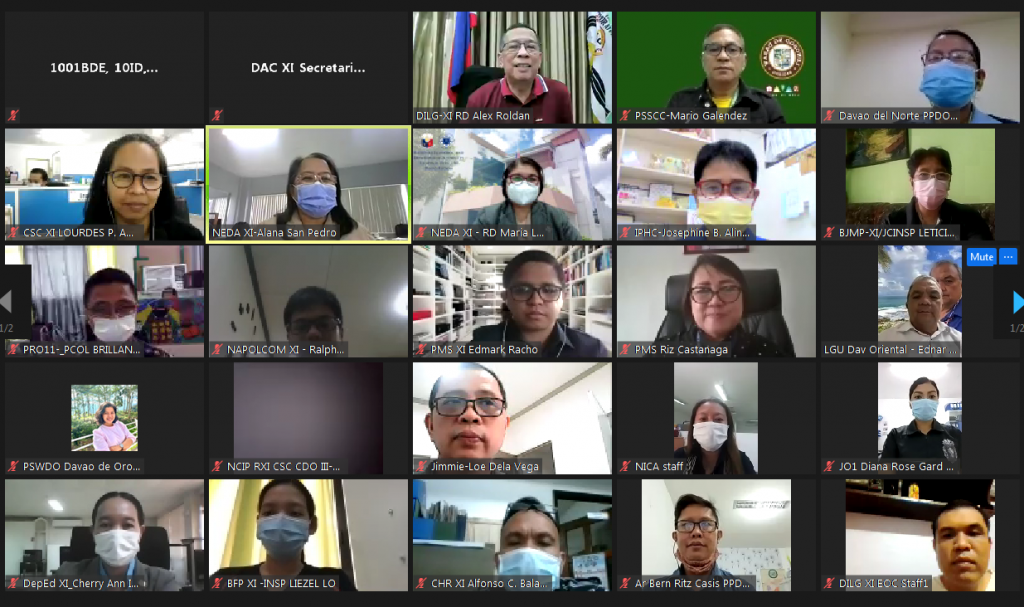 The Development Administration Committee (DAC) XI convened for its 2nd quarter CY 2021 meeting on May 20, 2021 via Zoom, which was presided by Department of Interior and Local Government (DILG) Region XI Director and DAC XI Chairperson Alex C. Roldan.
The Committee was presented with the Proposed Career Executive Service (CES) Bill by Assistant Executive Secretary (AES) and NUCESO National President Lynn Danao-Moreno. This proposed bill recognizes the need to maintain the the commitment and efficiency of qualified CES Members in public service, especially those who were given greater responsibilities and work extended hours but receive equal pay with their non-career executive colleagues with the same salary grade by giving them due recognition. The said recognition shall come in the form of higher salaries, special allowances, retirement benefits and privileges proportionate to their CES ranks. The Committee passed a Resolution recommending to the RDC XI to support the CES Recognition Bill and elicited the support of Davao Region Congressional Representatives and Senators in the authorship of the proposed Bill in both Houses of Congress.
Also during the meeting, Mr. Louie Limbaro of DILG XI also presented the Enhanced Comprehensive Local Integration Program (E-CLIP) in Davao Region, describing the beneficiaries, benefits, process and documentary requirements. Relatedly, the provinces of Davao del Sur, Davao Oriental and Davao de Oro also presented their transition programs for former rebels and their families, the LGUs best practices and challenges encountered in the implementation of the programs. The programs shall de-radicalize former rebels from doctrines instilled in them by the Communist Terrorist Groups (CTGs). In particular, Davao del Sur and Davao Oriental highlighted their best practice transformation programs for the former rebels, namely, the Tupad-Pangako Program and the Balik-Loob Program. Significantly, the Balik-Loob Program includes a healing, reconciliation process that would cleanse the minds of former rebels from their doctrine aimed to remove anger and conflicts between people and Government.
As a rejoinder, Chairperson Roldan enjoined LGUs to aggressively advocate to the public of the Government's crucial interventions that have alleviated the lives of former rebels from poverty, through provision of basic services, particularly those from the Geographically Isolated and Disadvantaged Areas (GIDAs), which ensured the inclusivity of these programs at the local level.
– Pamela N. Yparraguirre, NEDA XI