(DAVAO CITY, September 19) The Social Development Committee (SDC) of the Regional Development Council (RDC) XI conducted its reorganization meeting for 2022-2025 during its CY 2022 3rd quarter meeting on September 19, at the NEDA-RDC XI Center, Bangkal, Davao City.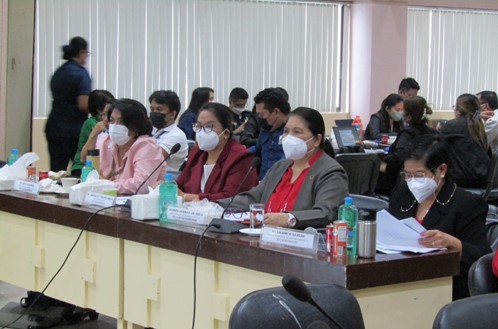 The NEDA XI, DOH XI, DepEd XI, DSWD XI, DOLE XI, DOST XI, DAR XI, DHSUD XI, CHED XI, TESDA XI, CSC XI, CHR XI, POPCOM XI, NNC XI, NCIP XI, NCMF XI, NCCA, NYC, PCUP XI, UP Mindanao, DAP Mindanao, and PHIC XI are the members representing the National Government; as well as all the provincial and city planning and development coordinators in the Region; and eight private sector representatives, namely (1) Ms. Daryl R. Alegarbes of the Association of Trade Unions, (2) Mr. Augusto S. Blanco, Jr. of the Kaimunan Lumad Sang Compostela, (3) Mr. Lorenzo C. Borja of the Davao City Aquaculture Farmers and Fisherfolks Association, (4) Mr. Naprey V. Almario of the Davao Jubilee Foundation, (5) Mr. Dennis Joseph I. Salvador of the Philippine Eagle Foundation, Inc., (6) Fr. Gil L. Casio of the Foundation of Balay Pasilungan, Inc., (7) Mr. Marc Daryne R. Rovira of the San Lorenzo Socio-Economic Development Foundation, Inc., and (8) Mr. Rommel F. Momo of the Davao Association of Catholic Schools. The SDC XI also has two non-government organizations as members: (1) Davao Colleges and Universities Network (DACUN), and (2) Holy Cross of Davao College (HCDC) Research Center.
The SDC XI is chaired by DOH XI Regional Director Anabelle P. Yumang, with PSR for Labor Sector Daryl R. Alegarbes as Co-Chair.
PSR for Youth, Women, and Children Sectors Fr. Gil L. Casio, was chosen as the Committee's representative to the Regional Gender and Development Committee XI. Further, UP Mindanao, HCDC Research Center, PCUP XI, PHIC XI, and NCIP XI were endorsed as SDC XI's nominees to the RDC XI Special Non-Voting Members for the term 2022-2025.
Following the reorganization, the members were also briefed on the roles and functions of the SDC, the Regional Gender and Development Committee, and RDC- Special Non-Voting Members. -Katrina M. Sanchez, EDS I, DRD