Davao Region's Balik Probinsya, Bagong Pag-asa Program – Information and Communication Team (BP2P-ICT) shared Davao Region's CY 2021 BP2P advocacy activities and accomplishments vis-à-vis the program's implementation and communication plan during its 1st Quarter 2022 BP2P-ICT Meeting on 24 February 2022 at 9:00AM-11:00AM via Zoom Platform.
Being the lone LGU in Davao Region with a successful dispatch to date, Davao del Norte BP2P Lead Staff, Gemma Montegrande emphasized that one of the crucial steps in implementing the program was the creation of a BP2 provincial core team and technical working group. Through the delineation of roles and responsibilities on the program's implementation, together with the cooperation of partner agencies, the returnees' reintegration in the local community was successfully achieved.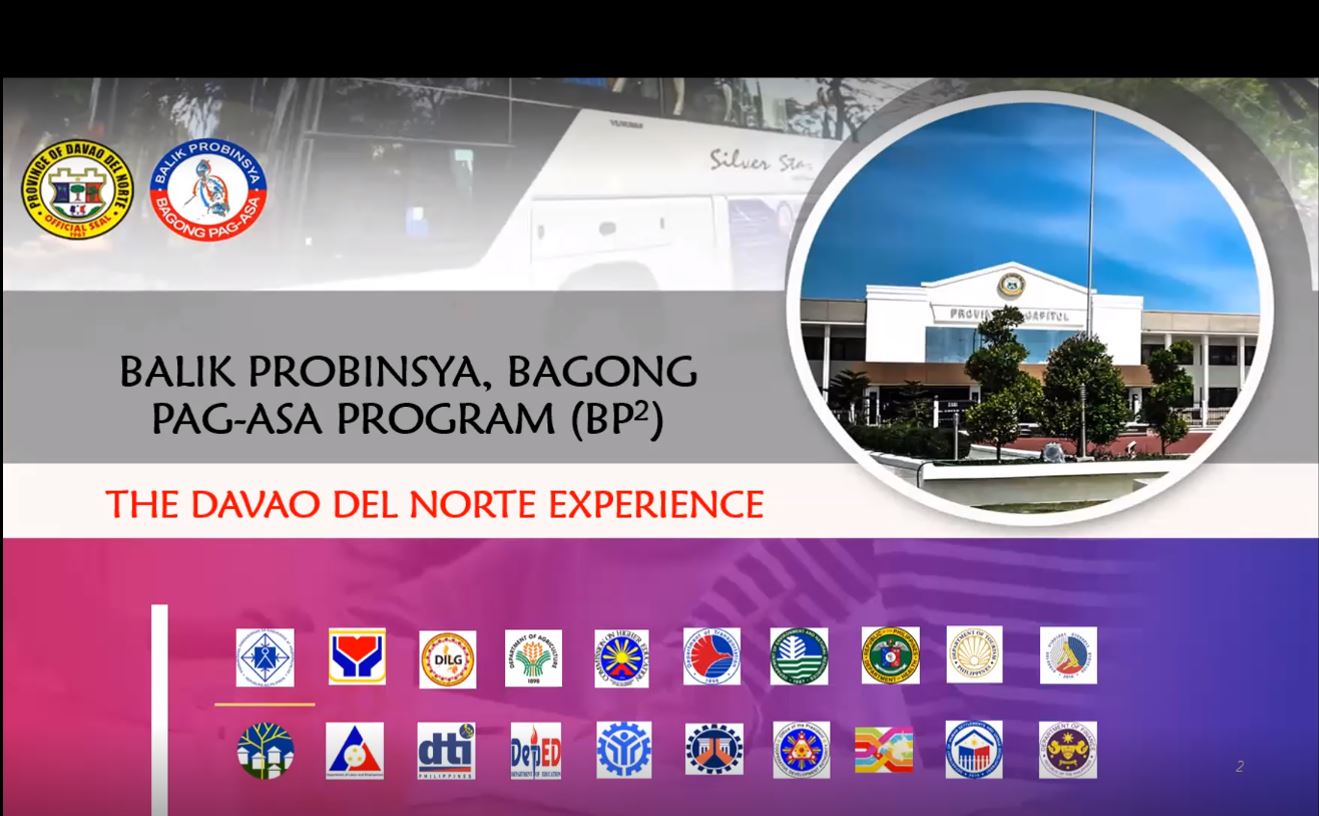 In CY 2021, the implemented reintegration programs in Davao del Norte were DSWD XI's transitory shelter assistance, NHA XI's turnover of desktop computers and android tablets to beneficiaries with children going to school, DOLE XI's provision of livelihood assistance thru Integrated Livelihood and Emergency Employment Program, DTI Davao del Norte's entrepreneurial and skills capacity building, TESDA XI's series of technical skills development, DA XI's turnover of agricultural inputs, and Davao del Norte's flagship program: DavNor Kaagapay, where beneficiaries are provided with the resources to make a livelihood out of agriculture.
To strengthen the public's awareness and understanding of the program, Davao del Norte partnered with PIA XI in the conduct of a virtual conference. Further, the province also collaborated with other LGUs in the region for an orientation and knowledge sharing session, ensuring that all are apprised of all BP2P undertakings.
Advocacy activities of various agencies were also presented such as NHA XI's proactive sharing of objectives of the program, application process and dispatch timelines through BP2P Facebook Page, Davao del Norte and NHA XI's regular production of social media cards and photo releases to push testimonials in support of the program, DSWD XI's integration of BP2P benefits in their regular advocacy releases, and PIA XI's BP2P speakers' bureau assembly which aimed at helping involved stakeholders in operationalizing the BP2P communication plan. The agreements during the aforementioned assembly highlighted the strengthening of the program's information campaign by producing effective IEC materials, sharing of success stories to encourage more applicants, and enabling a seamless access point of these materials for easier dissemination.
NHA XI reported that in CY 2021, a total of 255 BP2P applications for Davao Region were reviewed and assessed. Of which, 127 applicants were successfully recommended for send-off, while others were referred to other social services programs. Davao del Sur Provincial Government manifested its intent to carry out the program in CY 2022, while the rest of the LGUs were enjoined by the BP2P Chairperson and NEDA XI Director Lim, to participate as well.