The Balik Probinsya Bagong Pag-asa (BP2) Program Special Committee XI convened for its 1st quarter CY 2022 meeting on March 9, 2022 via Zoom presided by National Economic and Development Authority (NEDA) XI Regional Director and BP2 Program Special Committee XI Vice-Chairperson Maria Lourdes D. Lim.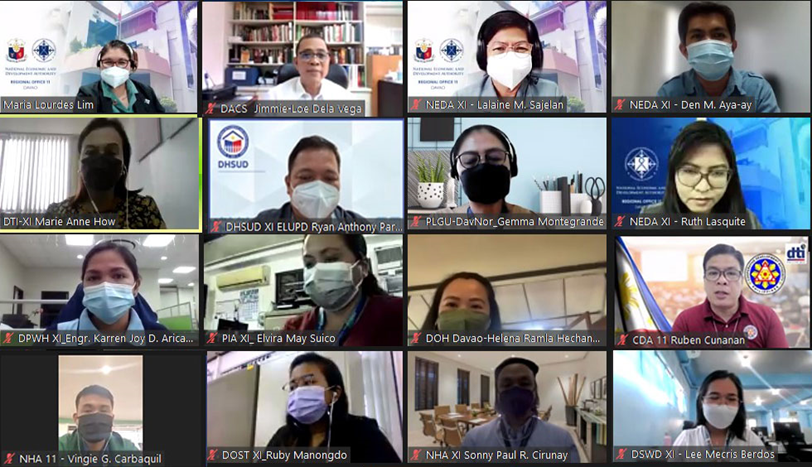 Ms. Gemma Montegrande of the Provincial Planning and Development Office of Davao del Norte apprised the Committee of the status of the BP2 Program beneficiaries in Davao del Norte, a pioneer LGU of the BP2 Program. The province welcomed 6 family beneficiaries of the BP2 Program last March 2021. As of March 2022, only 4 families remained in the province as 1 family transferred to Davao de Oro to be nearer to relatives, and another family returned to Manila due to health reasons. Aside from food and financial assistance, the beneficiaries have also received livelihood and transitory shelter assistance, as well as undergone skills training programs. In total, Davao del Norte LGU has received PhP 1.7 million worth of livelihood assistance for the province's BP2 Program beneficiaries.
Ms. Lee Macris Berdos of DSWD XI informed the Committee that more than PhP 7 million was utilized for the BP2 Program Implementation in Davao Region for 2021. This includes the assessment of applicants up to the provision of livelihood assistance to the beneficiaries. For FY 2022, DSWD XI is proposing a total budget of PhP 60.5 million for the BP2 Program Implementation, which includes transportation/relocation assistance, transitory family support package, livelihood settlement grant, and transitory shelter assistance.  Atty. Sonny Cirunay of the National Housing Authority (NHA) XI shared updates on the implementation of BP2 Program in Davao Region. As of February 2022, 255 individuals have applied for transfer to Davao Region under the BP2 Program, 127 of which were deemed eligible based on the assessment conducted by DSWD. Out the 127 eligible applicants, 57 were recommended for immediate send-off. Atty. Cirunay reported that Davao del Sur has submitted a letter of intent to participate in the BP2 Program. BP2 Program eligible applicants' destination mostly covered all provinces in Davao Region, including Davao City. However, only Davao del Sur, aside from Davao del Norte, has expressed intent to receive BP2 Program beneficiaries. With this, the Committee agreed to reiterate the call to enjoin all the LGUs in Davao Region to participate in the BP2 Program in order to support the government's endeavor to promote regional development.