In a special meeting conducted virtually on July 27, 2023, the Regional Development Council (RDC) XI ex-officio voting members and private sector representatives endorsed the nominations of Davao de Oro Governor Dorothy M. Gonzaga, Davao del Norte Governor Edwin I. Jubahib, and Mati City Mayor Michelle Marie Denise N. Rabat, for consideration in the selection and appointment by President Ferdinand R. Marcos, Jr. of a new Chairperson for the RDC XI, who will complete the unexpired term of the late Governor of Davao Oriental, Hon. Corazon N. Malanyaon, as Council Chairperson until June 30, 2025.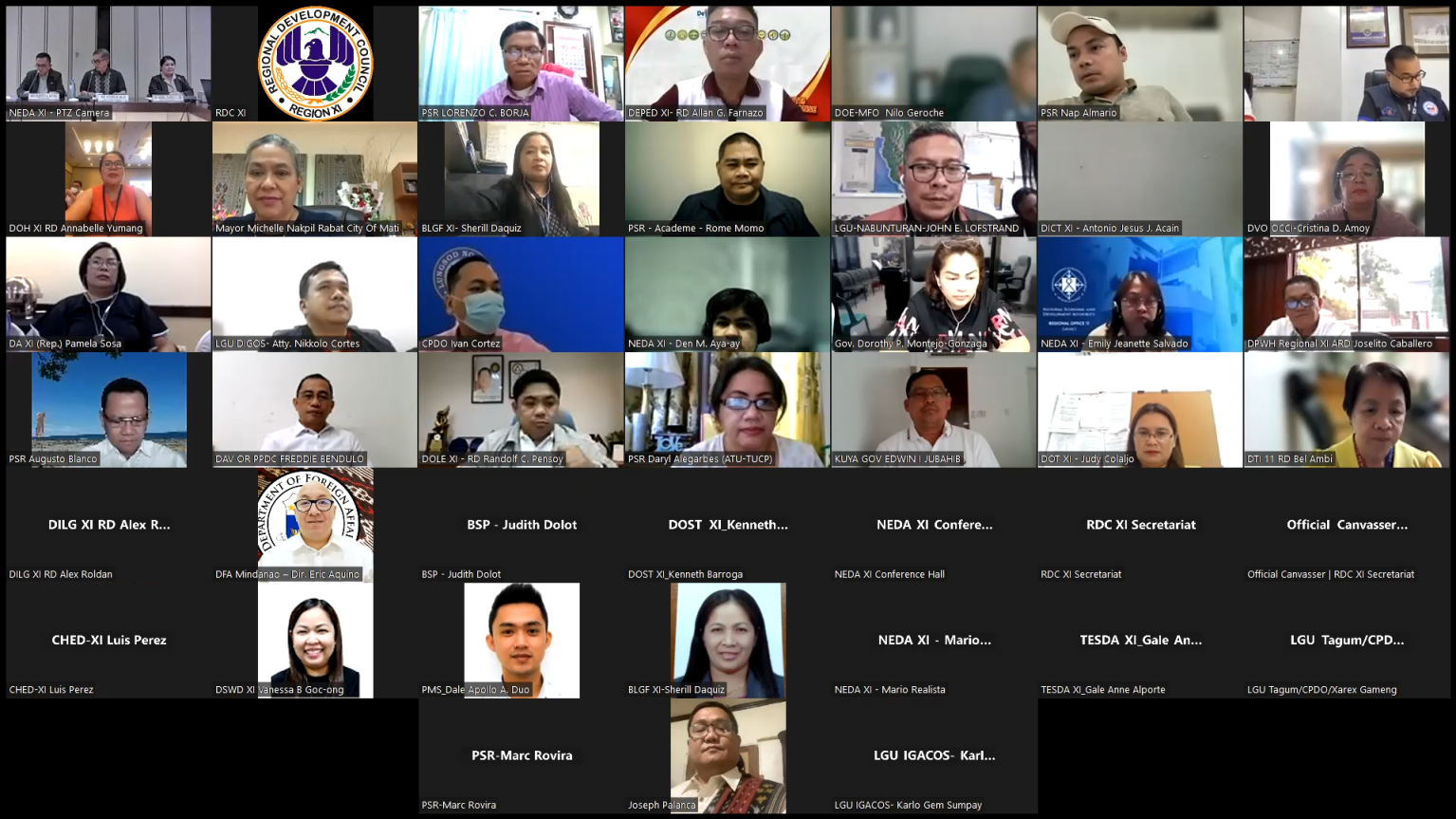 The selection and appointment of RDC Chairpersons is governed by Executive Order (EO) No. 325 dated April 12, 1996, which prescribes that the President of the Republic of the Philippines shall select and appoint the RDC Chairperson from at least two nominees endorsed by the Council.
In the meantime, the incumbent RDC XI Co-Chairperson and Private Sector Representative for Energy/ICT, Mr. Arturo M. Milan, shall temporarily serve as Acting Council Chairperson until a new Chairperson is appointed by the President pursuant to the selection procedure established in EO 325. In his message to the Council members, Acting Chairperson Milan enjoined everyone to continue to uphold the late Council Chair Governor Corazon Malanyaon's vision of inclusive and broad-based socioeconomic development in Davao Region and to work with as much, if not greater, passion that inspires many others.
The RDC is the primary institution that coordinates and sets the direction of all economic and social development efforts in the region. Under the Marcos Jr. Administration, the RDCs have been primarily tasked to bridge gaps between the national and local governments, through enhanced vertical and horizontal linkages in socioeconomic development planning, investment programming and budgeting, as well as in project monitoring and evaluation.