The Regional Development Council (RDC) XI conducted Package 2 of its Capacity Building (CapBuild) Program 2020 – 2022 on 27 October 2020, online via Zoom. Package 2 of RDC XI's CapBuild Program aimed to capacitate the RDC XI members with the essential technical concepts on Project Development and Investment Programming, particularly on the NEDA Board Investment Coordination Committee (ICC) Project Review and Approval Process; Public-Private Partnership (PPP) Project Review and Approval Process; and, Project Appraisal and Financing. The activity was graced by DBM Secretary Wendel E. Avisado, CORDS for Davao Region, and featured distinguished resource speakers from the NEDA Central Office, namely: Usec. Jonathan L. Uy, OIC-Undersecretary of the NEDA Investment Programming Group; Asec. Eleazar E. Ricote, Deputy Executive Director of the Philippine Public-Private Partnership (PPP) Center; Francis Bryan C. Coballes, OIC-Asst. Director of the NEDA Infrastructure Staff; and, Calixto M. Mangilin, Jr., Chief Economic Development Specialist of the NEDA Public Investment Staff.
Usec. Uy provided an overview of the ICC Appraisal and Approval Process, emphasizing its coverage and the indicative timelines of the entire review process. Usec. Uy also informed the Council on the structure and membership of the NEDA Board and distinguished the NEDA Board from the NEDA Secretariat as stipulated in Executive Order 230 s. 1987. Amongst the NEDA Board Committees, Usec. Uy highlighted that the ICC is tasked in endorsing major capital projects of the Government. Further, the Undersecretary actively engaged the RDC XI members on their specific clarifications and inquiries on the ICC Review process relating to Davao Region projects.
Asec. Ricote, on the other hand, introduced the webinar participants to the Phil. PPP Program and the roles of the Philippine PPP Center. As the Government looks into accelerated infrastructure development, Asec. Ricote expressed that the PPP Program is a viable option for Implementing Agencies to fund their infrastructure and development projects. He further expounded on the mechanisms that implement the PPP Program, as well as the PPP Review Process for both solicited and unsolicited proposals.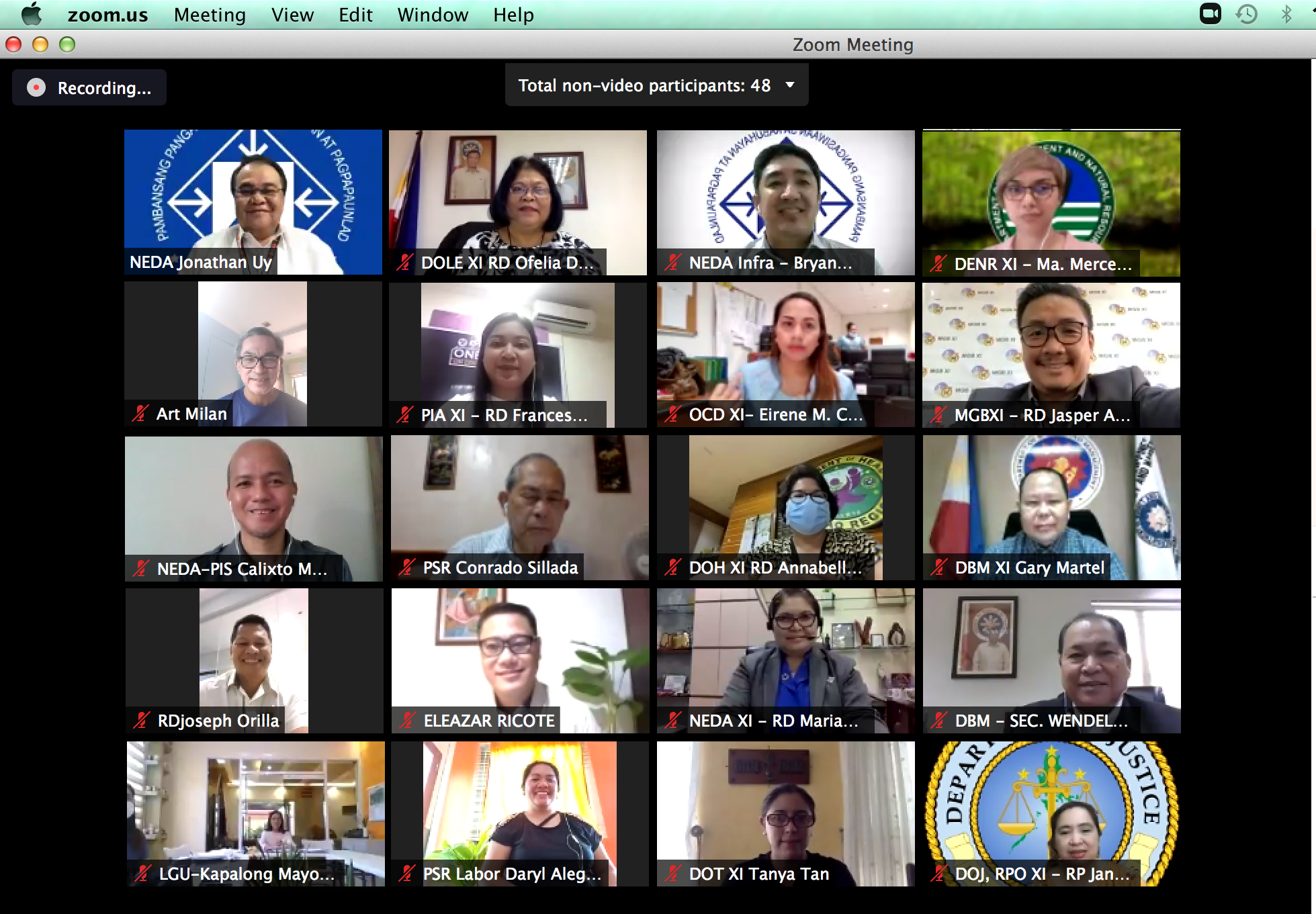 Asst. Director Coballes and Chief EDS Mangilin shared topics on Project Appraisal and Financing. Asst. Director Coballes introduced the essential principles of project evaluation and elaborated on the areas covered during the ICC Appraisal process, whereas Chief EDS Mangilin provided the Council with an overview of the Official Development Assistance (ODA) financing mechanism and a snapshot of the procedures undertaken for the availment of ODA financing from bilateral development partners. Both speakers were able to engage with the Council members during the session's open forum in which specific technical questions and concerns in regards to the ICC appraisal process and ODA financing were appropriately addressed.
The topics covered under this webinar were agreed upon by the Council during its Strategic Planning Conference for 2020-2022, conducted on 17 January 2020. The next package of the CapBuild webinar-training shall focus on Sectoral Planning and Economic Analysis/Forecasting.
####
Laurence Gido, NEDA XI
Photos by NEDA XI