The RDC XI Advisory Committee convened for its CY 2022 Second Semester Meeting on September 2, 2022 through the Zoom platform. The meeting was presided over by Acting RDC XI Chairperson and NEDA XI Regional Director Maria Lourdes D. Lim, CESO II. Present during the meeting were Davao Region Congresspersons, namely: Congressman John Tracy Cagas of Davao del Sur, Congressman Nelson Dayanghirang of Davao Oriental, and Congresswoman Maria Carmen Zamora of Davao de Oro, together with Wilfrido Villarica and Mary Ann Cheng representing Congressmen Paolo Duterte and Allan Dujali, respectively; the RDC XI Executive Committee (ExCom) members; and Rico Hernandez, representing the Office of Senator Christopher Lawrence "Bong" Go. Also in attendance were DBM Central Office Functional Group Head of the Organization and Sytems Improvement Group Asec. Achilles Gerard C. Bravo, DBM XI Regional Director Gary Martel, and DOST XI Regional Director Anthony Sales.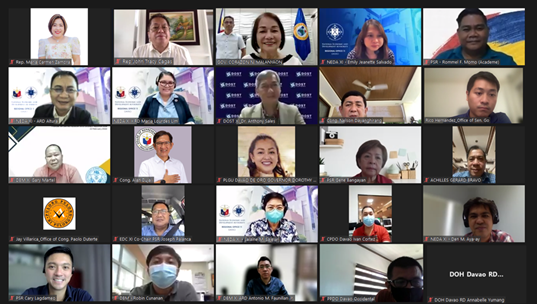 Among the substantive matters tackled during the said meeting include the Davao Region's thrusts and priorities for the Plan Period, 2023-2028, and the status of RDC XI-endorsed budget proposals in the FY 2023 General Appropriations Bill. On the other hand, Director Martel presented the Regional Allocation of FY 2023 National Expenditure Program (NEP). Director Martel further reported that Mindanao will receive 21% of the total proposed FY 2023 budget which is equivalent to 628.7 billion pesos. Of the 628.7 billion pesos budget, Davao Region has a share of 117.8 billion or equivalent to 18.74%.
DBM Asec. Bravo provided updates on the approval of the standard staffing of Metro Davao Development Authority (MDDA); the several proposals for the establishment of national hospitals across Davao Region; and the developments in the creation of regional offices of new departments including the Department of Migrant Workers staffing positions in DPWH District Engineering Offices, as well as other offices, in pursuit of the right-sizing in government operations. Moreover, Asec. Bravo requested Davao Region Congresspersons to support the inclusion of MDDA budget in the FY 2023 General Appropriations Act (GAA).
As an offshoot of the RDC XI AdCom Meeting, two resolutions were passed: (a) that MDDA be recommended under the oversight of the Office of the President, and (b) is for inclusion of the Waste-to-Energy and HPBS Projects funding in the FY 2023 GAA as part of Metropolitan Davao development priorities.
Davao Region Congresspersons in attendance, along with the representatives of other Davao Region Congresspersons and Senator Go, as well as the RDC XI ExCom members, manifested their support for the inclusion of RDC XI-endorsed budget proposals in the FY 2023 GAA and committed to lobbying an equitable share for Mindanao Regions, including the regional line agencies' office projects construction/completion in the Regional Government Center and higher Davao Region's schools, universities and colleges' budgets in the FY 2023 GAA.