(NEDA-RDC XI Center, Davao City). The RDC XI Advisory Committee (AdCom) convened its CY 2023 Second Semester Meeting on October 20, 2023 at the NEDA-RDC XI Center, Bangkal, Davao City and via Zoom. The meeting was presided over by RDC XI Acting Chairperson and Private Sector Representative (PSR) Arturo M. Milan, assisted by RDC XI Vice Chairperson and NEDA XI Regional Director Maria Lourdes D. Lim, CESO II.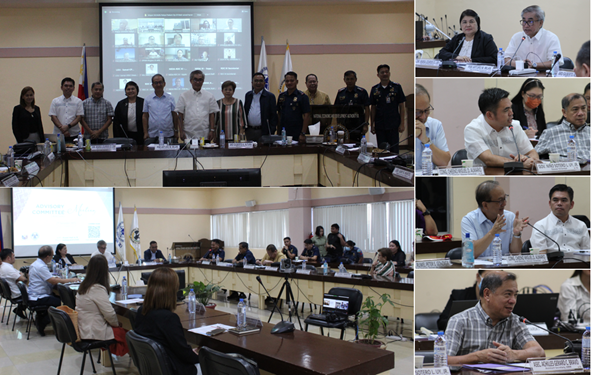 The Committee tracked the progress of the Davao Regional Development Plan (DRDP), 2023-2023, Legislative Agenda in the 19th Congress, including the proposed re-nationalization of Provincial LGU-operated hospitals in the Region and the ongoing review of the franchises accorded to electric power providers in several Provinces of Davao Region. Also discussed were the provisions in the FY 2024 National Expenditure Program for Davao Region, the Region's FY 2025 Annual Investment Program, the FY 2024 budgetary requirements of the Metropolitan Davao Development Authority (MDDA), including the Metropolitan Davao Police District (MDPD), and Davao Region's Inter- and Intra-Regional Priority Projects for the period, 2023-2028.
Present during the meeting were Governor Niño Sotero L. Uy, Jr. of Davao Oriental; Former Congressman Joel Mayo Z. Almario who represented the incumbent Representative of the 2nd District of Davao Oriental, Congressman Cheeno Miguel D. Almario; representatives from the Offices of Senator Christopher Lawrence T. Go, Congressman Paolo Z. Duterte (1st District – Davao City), Congressman Ruwel Peter S. Gonzaga (2nd District – Davao de Oro), Congressman Alan R. Dujali (2nd District – Davao del Norte), Congressman John Tracy F. Cagas (Lone District – Davao del Sur), Congressman Claude P. Bautista (Lone District – Davao Occidental), the Provincial Governors of Davao de Oro, Davao del Norte, Davao del Sur, and Davao Occidental, and the Mayor of Davao City; Chairpersons/Co-Chairpersons of the RDC XI Sectoral Committees; and, PSRs Gene C. Bangayan and Rommel F. Momo who are likewise private sector members of the RDC XI Executive Committee (ExCom). Also in attendance, as resource persons, were DBM Assistant Secretary Achilles Gerard C. Bravo, PLTGEN Filmore B. Escobal of the Area Police Command for Eastern Mindanao, MDPD Acting Police District Director, PCOL Thor Valiente P. Cuyos, and DBM XI Regional Director Gary R. Martel.
The Committee pushed for the introduction of counterpart Bills in the Senate on the institutionalization of the Revitalized Pulis sa Barangay (RPSB) and the Re-Nationalization of the Davao Oriental Provincial Medical Center. It also requested the Office of the President to certify the former legislative measure as urgent, given its impact on sustaining the gains of the National Government's campaign against insurgency. The Committee also endorsed the FY 2025 Annual Investment Program for Davao Region and the Region's Inter- and Intra-Regional Priority Projects, 2023-2028, for support in the 19th Congress.
The RDC XI AdCom consists of members of the House of Representatives for the Congressional Districts of Davao Region, the RDC XI ExCom, and Senators Christopher Lawrence "Bong" Go and Ronald "Bato" Dela Rosa as special members.
-RDC XI Secretariat