Davao City, September 21, 2022 – The Development Administration Committee (DAC) XI convened for its reorganization for the term 2022-2025 during its 3rd quarter CY 2022 meeting on September 21, 2022 at the NEDA-RDC XI Center, Bangkal, Davao City.
The meeting was presided by the DAC XI Chairperson, Department of the Interior and Local Government (DILG) XI Regional Director Alex C. Roldan. Private Sector Representative (PSR) Augusto S. Blanco, Jr. of Indigenous Peoples is the DAC XI Co-chairperson.
The reorganized DAC XI is composed of 39 members, where, 21 are National Government Agencies (NGAs), 11 are Davao Region Provincial and City Planning and Development Offices and 5 are RDC XI PSRs. To make the membership more inclusive, the Committee has decided to consider nominations from the Non-Government Organizations (NGOs) for Committee XI membership, which shall be approved in the 4th quarter 2022 DAC XI meeting.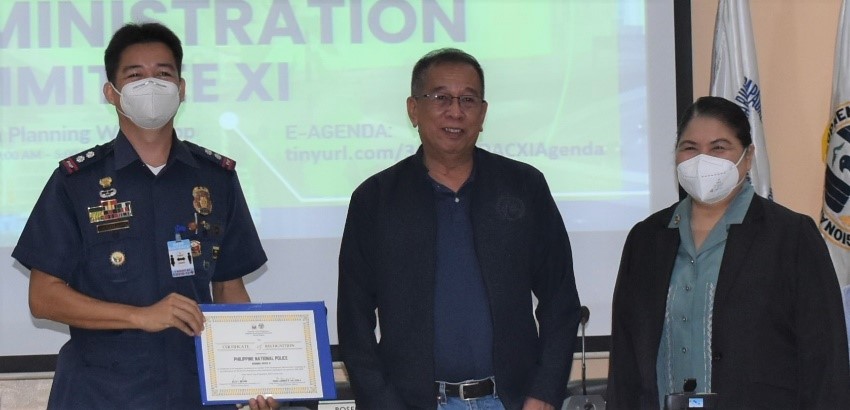 The Committee was presented with the assessment of members' performance during the term 2017-2022, where it was shown that the Philippine National Police (PNP) and the National Economic and Development Authority (NEDA) achieved 100% attendance rate during the previous term's meetings. With this, the said members were commended by the Committee for their exemplary commitment.
In the same meeting, the Commission of Audit (COA) was selected as the Committee's representative to the Regional Gender and Development Committee (RGADC) XI as required by PCW-DILG-DBM-NEDA Joint Memorandum Circular No. 2016-01.
Further, pursuant to Executive Order No. 325 on Council membership, DAC XI endorsed the following members as RDC XI Special Non-Voting Members (SNVM) for the term 2022-2025, viz: 1) 10th Infantry Division of the Philippine Army (10ID PA), 2) PNP, 3) Philippine Information Agency (PIA), 4) Office of the Civil Defense (OCD), and 5) National Commission on Indigenous Peoples (NCIP).
–Pamela N. Yparraguirre, NEDA XI