The Balik Probinsya Bagong Pag-asa (BP2) Program Special Committee XI convened for its 2nd quarter CY 2022 meeting on June 17, 2022 via Zoom presided by Mindanao Development Authority (MinDA) Secretary and Cabinet Officer for Regional Development Security (CORDS) for Region XI Maria Belen Sunga-Acosta.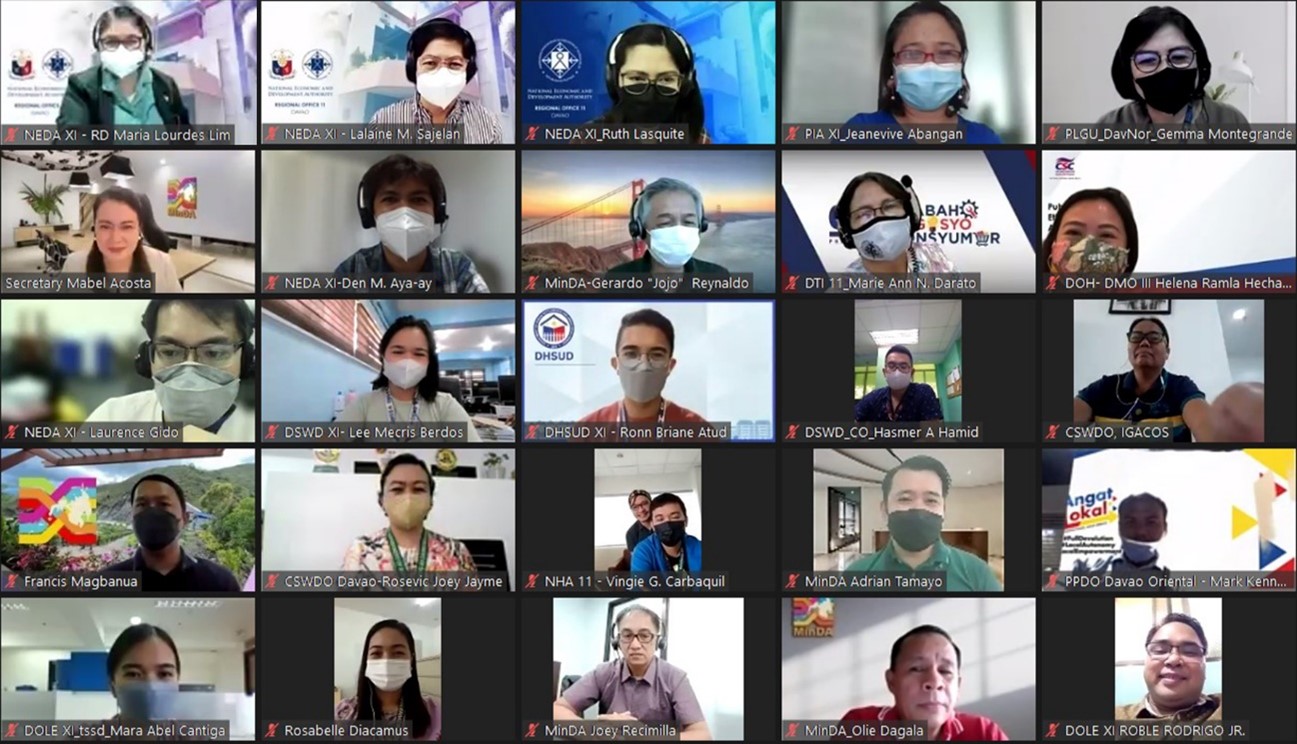 Ms. Gemma Montegrande of the Provincial Planning and Development Office of Davao del Norte apprised the Committee on the status of the Implementation of the BP2 Program beneficiaries in Davao del Norte. The 4 family-beneficiaries of the Program continue to be provided with livelihood assistance by the Province and were enrolled in Davao del Norte's Kawsa sa Agrikultura ug Panginabuhian sa Barangay (KAAGAPAY) Program. Ms. Montegrande also reported that there are 5 family-beneficiaries that are scheduled for immediate send-off to the Province, while 19 family-beneficiaries were for later send-off to the province under the BP2 Program. Further, she informed that 9 other families arrived in the Province either on their own or through the Hatid Tulong Program or the Assistance to Individuals/Families in Crisis Situations (AICS) Program by the Government, but were still categorized as BP2 Program beneficiaries.
Relatedly, the Davao del Norte BP2 Program Focal Team conducted a meeting with MinDA with regard to the BP2 Program Villages established in Lanao del Norte and Zamboanga, which Davao del Norte Province also aspires to follow. Chairperson Acosta recommended for Davao del Norte to conduct a site visit to the said BP2 Program Villages, in order for the LGU to get a more accurate picture on the actual situation and to coordinate with MinDA on the said site visit in order to be properly assisted.
Ms. Lalaine M. Sajelan of the BP2 Program Information and Communication Team (ICT) Secretariat reported the advocacy activities implemented in Davao Region for the BP2 Program, which include the following: a) regular coverage of the program by the Davao del Norte LGU on its One DavNor Network, and b) provision of the program updates by implementing agencies in their respective social media pages. However, Ms. Sajelan raised a concern as some LGUs and implementing agencies reported to have provided assistance to BP2 Program beneficiaries apart from than the reported 4 family-beneficiaries deployed to Davao del Norte.
Lee Macris Berdos of DSWD XI clarified that families who were deemed eligible under the BP2 Program, but are still awaiting Certificates of Eligibility (COE) from the National Housing Authority (NHA) may avail of the assistance provided under the BP2 Program, despite having travelled to their destination LGUs on their own or through other government transportation assistance programs. With this additional information, Chairperson Acosta enjoined the proper coordination and communication among the member-agencies, so that published information about the program is consistent across the agencies and LGUs. To reinforce this recommendation, a re-orientation on the BP2 Program for all information officers of LGUs and implementing agencies shall be conducted.